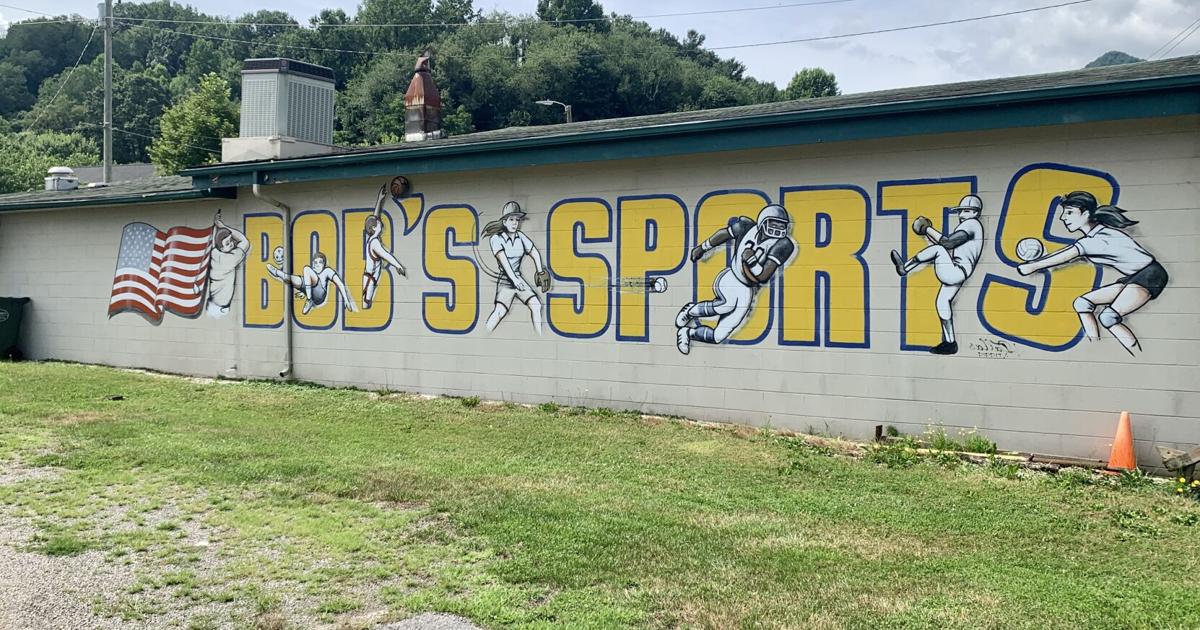 The Last Round: Closing of the Bob's Sports Store | New
Bob's Sports store, a Waynesville landmark for 51 years, is set to close after an impressive run for the second-generation business.
"We just decided it was time to close," said current owner Kenny Mull, now in his 60s, who joined the business alongside his father, Bob Mull, in 1974, when he was only 21 years old.
For decades Bob's Sports has been "the place" to buy your baseball or softball glove and have it relaced, order custom, in-house screen printed team shirts or just stop in for a chat and a coffee before work.
Even though times are tough for many small businesses, Kenny Mull says he's just ready to retire.
"We've been fortunate to stay open for 50 years," Kenny Mull said. "It's just time. You get to a point where you're just tired.
The plan is to sell – or sell existing merchandise without ordering new stock – and not close immediately, Kenny Mull said. Currently, most things in the store are 40% off, from clothing and sports gear to patches and golf clubs.
Kenny Mull owns the building and the property, but the family has yet to decide what to do with it.
Humble beginnings
At one time, the Bob's Sports store was the home of Kenny Mull's grandmother. After his passing, Kenny Mull's father, Bob Mull, who worked at Waynesville Country Club for 17 years, had an idea.
"He decided he wanted to open his own golf shop," Kenny Mull said. "He was a golf man; he knew golf inside and out.
Bob Mull converted his old home into a golf shop in December 1971.
Kenny Mull's father didn't borrow money to open his store. He sold golf balls and clubs and reinvested the profits into buying more inventory until the store became profitable.
It started out as a simple golf store, stocked with new and used golf balls, a few sets of used clubs that Bob Mull loaned to country club folks, and a few sets of brand-new Ram clubs.
After Tom Watson, who used Ram clubs himself, joined the PGA Tour in the early 70s, the shop sold out month after month.
" At a time, [dad] sold more clubs in a year than anyone in the state of North Carolina, including pro shops," Kenny Mull said.
Bob Mull also refurbished and refitted clubs, most of which were wooden, highlighting his passion and knowledge of the game.
The expansion is coming
With the Dayco plant just across the street, workers stopped for coffee and a chat before heading to work. Bob Mull even sold parking spaces to workers on the lot next to the store.
"Guys would come and say, 'Bob, why don't you put on some fishing gear?' So he did. Then they said, 'Why don't you put on some hunting gear?' "says Kenny Mull.
Bob Mull got his federal firearms license to sell guns and ammunition and eventually took gear and supplies for every sport anyone could play in western North Carolina.
Kenny Mull worked at Dayco in the mid-1970s and his father asked him to come and help run the store in 1974.
"Eventually it got too big for him," said Kenny Mull, who joined the store soon after. Kenny Mull and his father demolished the interior of the house in the mid-1970s, making way for wall-to-wall sports equipment.
Kenny Mull's sister, Kathy Hambrick, came to work at the store in 1976, followed by Kenny Mull's wife, Debbie Mull, the following year.
Eventually, Kenny Mull's mother, Mary Mull, came to do the store's accounting, and his brother, Richard Mull, came to help after he retired from the Air Force.
In the early years, there were no other sports stores west of Asheville, Kenny Mull said.
"Everyone west of Asheville stopped here first, so we had lots of friends and good customers from Cherokee, Swain and Sylva, and of course Haywood County," he said. -he declares.
Bob Mull died in 2005, and his wife, Mary Konyn Mull, in 2009, after 15 years as an LPN before joining the store.
Hard to compete
Some would say the worst thing a small retail store can see is a Walmart across the street, but Kenny Mull said that's not the case for Bob's.
"That's what everyone thinks, but it's not true," Kenny Mull said. "[Walmart] is seasonal. They order in winter for spring stuff, and when they sell it, that's it.
In fact, he says, Walmart often brings business to the store.
"People who work in the athletic department will send customers here if they're not carrying something," he said.
The internet, said Kenny Mull, is the real culprit behind many small businesses failing these days.
"What kills us is when people order online," Kenny Mull said. "How can you compete when you can use Amazon Prime to order today and get it tomorrow with free shipping?"
Kenny Mull said internet sites like Amazon killed foot traffic for Bob's, which drew many customers from surrounding counties.
Despite the drop in traffic in recent years, Kenny Mull said many people still come to get their ball gloves relaced because he's one of the only people west of Asheville who can do it properly.
"Nobody else does that anymore," he said. "The closest place anyone is re-gloving is in Asheville."
Customers even brought gloves that were supposed to be relaced to another store for Kenny Mull to fix. He plans to continue relacing his gloves even after leaving the store.
In the meantime, he said many customers had passed by and told him they hated to see the store close.
Krissy Deaver played every sport growing up, and Kenny Mull even coached her in basketball and softball, often playing alongside Mull's daughter, Tara.
"Kenny and Debbie and the whole family were always there to support us," she said. "They literally feel like my family. Every time my daughter started playing sports, [Bob's Sports] was the first place I thought of. As soon as you walk through the door, you feel like family.
Krissy Deaver said her husband, Charlie Deaver, received Carhartt clothes on his birthday every year from his grandmother Justine and bought them every year at Bob's Sports.
Jamey Gibbs has a similar story.
"We started going to Bob's Sports with my mom and dad when we were playing ball," he said, noting he was one of three brothers who played basketball, soccer and baseball. .
"They've provided all of our gear over the years," Gibbs said. "And when my daughter and my son arrived, they also provided their things."
Gibbs said it was the relationship Kenny Mull and his family had established with customers that kept them coming back.
"They were always very helpful and made sure that what we needed for our children we got. When my daughter was in college, they would order special stuff for her," he said.
The feeling is mutual for Kenny Mull.
"People will miss us. We made some very good friends," he said, including several generations of local families.
"We now sell stuff to kids whose parents were kids when they came here," Kenny Mull said. "You see that all the time. It's pretty amazing. It was a good race.