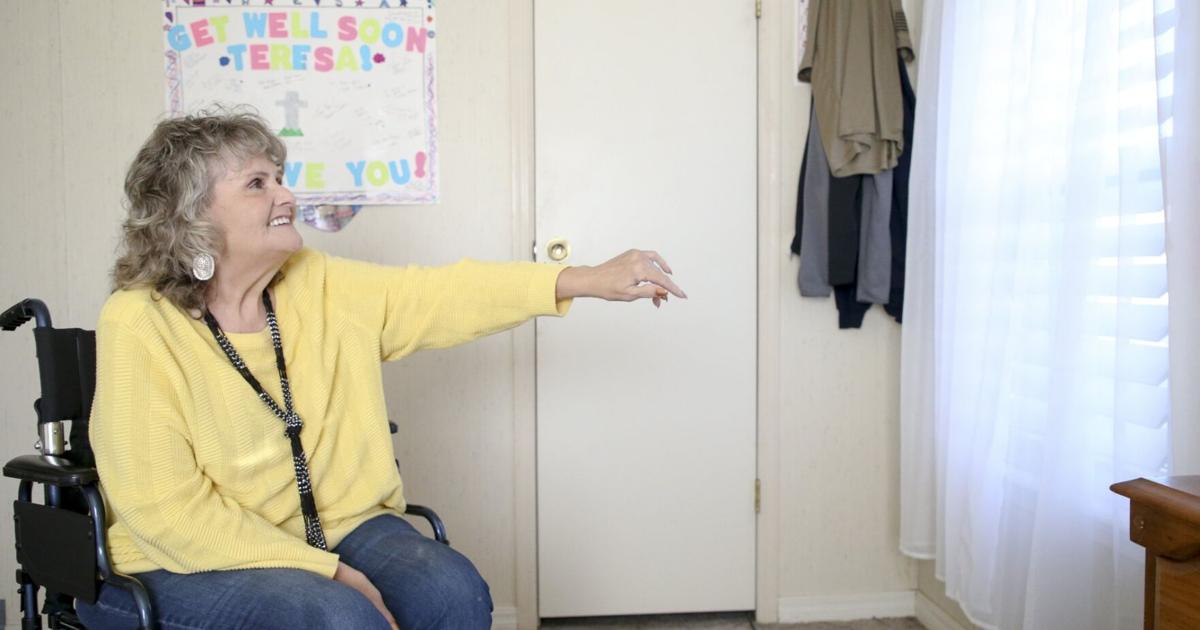 Santa Claus Stories Project for 2021 |
When her Jeep finally stopped turning, Teresa Nichols couldn't tell for sure.
By this time, she was too shaken and bleeding.
But she remembers his exact words as it happened.
"I raised my arms in the air and said 'God's will be done.' I've said it twice, "she said.
"I really thought that was it – that I was going to heaven that day."
Three months after the accident, the Mannford resident still finds it hard to believe she is there.
And in this she is joined by doctors, nurses, friends, eyewitnesses – pretty much anyone who knows the story.
All are puzzled as to how Nichols survived.
"My car didn't even look like a car anymore," she said after later seeing photos of the wreckage.
But as unlikely as it may have been, she survived. And although facing a long recovery, Nichols, 63, is convinced that she will one day be whole again.
"God will help me get through this," she said. "It's just going to take a while."
The accident happened on a Saturday morning in September.
Nichols, on her way to pick up her 7-year-old grandson, was driving her Jeep SUV on Oklahoma 51 when a semi-trailer in front of her pulled into a driveway.
As the driver stopped to open a barrier, his trailer got stuck halfway in the road.
What happened next only took a few seconds.
Nichols struck the trailer, overturning his vehicle three times before it came to a stop.
The next thing she knew, a man's face was at her window, talking to her. He urged her to hang on and try to stay awake.
"I asked if anyone else was injured," Nichols said. "He said, 'No ma'am. Just you.'"
Having to be cut from her crashed vehicle, Nichols, who lost three pints of blood, was rushed to hospital where emergency personnel saved her life.
She suffered multiple injuries, including two broken legs, the right one completely broken. She also had broken ribs, a broken wrist and elbow.
She has had four surgeries.
Today Nichols, still confined to a wheelchair, goes to rehab three days a week.
She should eventually be able to walk again, but will need at least one more surgery first: total knee replacement. She expects to learn this week when it can be scheduled.
Nichols currently lives with a friend who can help take care of herself and with her daily chores.
"I don't know what I would do without the people I rely on," she said.
'Miracle I'm here'
Nichols has a strong faith, but it has been put to the test, she said.
She remembers times, lying on her hospital bed, when she kept asking "Why?" Why? Why?"
At the same time, she was convinced that she could see the hand of God there.
The initial plan this Saturday had been to pick up a friend's daughter before picking up her grandson. It was Nichols' Saturday routine: picking up the kids and going to the park.
But that morning, for some reason, the friend didn't hear her call, and Nichols didn't stop.
"Normally her little girl would have been in the car with me," she said. "Or if I had both my grandson and her when it happened?" There are so many ways it could be worse.
Nichols has had his fair share of trials in life.
She is a cancer survivor, having conquered colon cancer four years ago.
She has also lost loved ones, including her husband of 36 years and, earlier this year, her mother.
His current difficulties are compounded by financial worries.
Nichols, previously a family and children's assistance specialist in Tulsa, hopes that one day he will be able to return to the job.
In the meantime, "I pray that I may have a disability," she said.
Nichols said that at the time of the crash, as her car rolled over, she felt ready to go.
"I had a feeling of peace," she said, adding that dying would mean seeing her husband and mother again, as well as other loved ones.
But clearly, God had other plans, she said.
Recently, Nichols shared his story in his church, New Hope Church in Mannford.
His words, along with photos of the wreckage, elicited an emotional response from audiences.
"I gave my testimony," she said. "People were crying and praising the Lord. We are a praying church and everyone has prayed for me.
While she had her questions – and many weak points, she said – Nichols has accepted her present lawsuit.
In this, God has given her a new mission, she believes.
"He is still a God of miracles. That's the message he wants me to get across, "she said.
"Because it's a miracle that I'm here. "
Donate to the Santa Claus Project
Donations can be made by sending a check or money order to Project Santa, c / o Tulsa World, PO Box 1770, Tulsa, OK 74102.
To make an online donation, go to tinyurl.com/ysvp9dm6. Scroll down to the "My donation is in support" drop-down menu, click on and choose "Tulsa World Project Santa".
DONORS
Contributions to the Santa Claus Project to date amount to $ 197,258. This includes $ 42,312 from the Tulsa Tribune Foundation endowment.
Tulsans donations include: Jim and Susannah Adelson, $ 5,000; Mike and Leslie Moore, $ 5,000; Ken Ray Underwood and Leslie Paris, $ 1,200; Sharky's Entertainment Emporium, $ 1,000; Mr. and Mrs. John W. Abernathy, $ 500; Ty and Anne Westfield, $ 500; Cheryl A. Kilpatrick, $ 500; Philip and Julie Allen, $ 500; Don and Nancy Nelson, $ 500 on behalf of Ed and Barbara Breece, Phyllis Wilson, Blake and Mayte Johnson, David and Janet Pynn and Barbara and Joe Woltz; William Scott Martin, $ 500; Rocky Goins and Lynn Flinn, $ 500; Kenneth H. Cook, $ 500; Judy and Mike Cline, $ 500; Warren Whitsel, $ 300; Tom and Maureen Knudson, $ 300; Michael and Jamie Carney, $ 300; Halline and Jerry Littlefield, $ 300; David Zucconi, $ 300; Chris Sanders, $ 300 in memory of Jordan Sanders.
Also, Shirley and Jim Tollison, $ 250; Sherri Goodall, $ 250; Edward Keller, $ 250; Rex and Allene Donley, Jeff, Angela, Xander and Jonah Sexton, $ 250 in honor of John and Jeanne Sturges, Amber, Micah and Miles Fenton, Allison, Branden, Holder and Abby Baxley. Les DeLesDernier, $ 200; Carol and Ron Hanlon, $ 200; DC Smith, $ 200; Mazin and Patty Al-Jibouri, $ 200; Nancy C. Phillips, $ 200; JB Brown, $ 200; Richard and Louise Lewis, $ 200; Delaney, Darcy, Cheryl and Stephen Knorr, $ 200; Sandra Chambers, $ 125; Deb Millaway, $ 125; Robert A. Fugate, $ 100; John and Paula Tiefenthaler, $ 100; Janie Perry, $ 100; Mary Ferem, $ 100; Jean F. Smith, $ 100 in memory of young son, Eric; Dr. Jerry Stinehart, $ 100; Thomas and Linda Connor, $ 100; Richard Ponce de Léon, $ 100; Anne Tarbel, $ 100; Janet Holland, $ 100; Barbara Pollard $ 100; Mary Ellen Thurman, $ 100; Carolyn Collins, $ 100; Harry and Kathleen Hannigan, $ 100; Susan and Philip Moldenhauer, $ 100; Stephen Curtis, $ 100; Steve and Marcia Baker, $ 100; Susan Jeffrey, $ 100; Jan and Duke Soule, $ 100; Brian and Mary West, $ 100 in memory of Howard West; Kent Jr. and Laken Gooch, $ 100 in memory of Mr. and Mrs. John C. Updike; Gretchen Battaglia, $ 65; DC Gallagher, $ 50 in honor of Richard Lloyd Jones Jr. Airport; Steve Nuckolls, $ 50; Valérie Corgill, $ 50; Annie Shurtleff, $ 50; Cindy Harrison, $ 50; Mr. and Mrs. Ervin Postier, $ 50; Susan Virdell, $ 25; Tom Johnson, $ 25; Tara Mason, $ 25; Louise Rose, $ 20.
Donations from outside Tulsa include: Frances Anne Goddard, Mannford, $ 500; Trude Norman, Muskogee, $ 500; Mary Roebuck Read, Broken Arrow, $ 500; Butch and Susan Zimmerman, Owasso, $ 500; Terry Bryan, Broken Arrow, $ 500; Jeff and Teresa Chism, Broken Arrow, $ 250; Preston Jones, Muskogee, $ 200; Gail Ellis, Sand Springs, $ 200; Dawne and Robert Stafford, Broken Arrow, $ 200; Ralph Crotchett, Broken Arrow, $ 150; Robin Matunas, Glenpool, $ 150; David and Michelle Hartley, Owasso, $ 150; Melba and William Dagy, Grove, $ 100; Patricia Fazzini, Broken Arrow, $ 100; Cheryl Hewlett, Owasso, $ 100; Chris Armstrong, Broken Arrow, $ 100; Monte and Karen Gartner, Owasso, $ 100; Mary Frances Leming, Norman, $ 100 for her friend Kathy Horne; Pat and Sharyl Blakey, Broken Arrow, $ 100 in memory of Pam Rusk and Juanita Hall; Patricia Sheffield, Owasso, $ 100; Sally Brown, Bernice, $ 100; Amy Galvin, Bixby, $ 100; Ed and Ginger Burr, Jenks, $ 100; Gale Mason, broken arrow, $ 100; Dan Tatterson, Broken Arrow, $ 100; WC Klintworth, Broken Arrow, $ 100; Fred and Marcia Perry, Broken Arrow, $ 100; Stacia Kenyon, Oklahoma City, $ 75 in memory of Kirby Lastinger; Tom Cunningham, Skiatook, $ 50; Dorothy Terhune, Broken Arrow, $ 50; Steve and Sandi King, Bixby, $ 25.
Anonymous contributions to date total $ 81,020 and include: $ 1,000 in memory of Jim Sturdivant and Tony Ringold, with the donor adding "great lawyers and better men".